******* RIDE SCHEDULE ******* "CLICK HERE! "


CLICK TO JOIN YAHOO MESSAGE BOARD FOR AUTO RIDE ALERTS AND MORE !!!!!
Number of pages viewed by fellow atv fanatics! LOL!
We will be heading back to Snow Shoe Rails to Trails ,Whiskey Springs and Bloody Skillet again. We LOVE to ride the creeks & explore the endless maze of trails.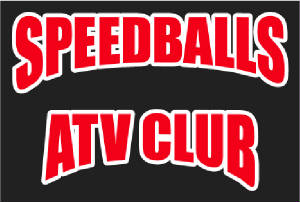 IN MEMORY OF DAVE SHARPLESS WHO LOVED TO RIDE WITH THE SPEEDBALL'S. HE WILL BE MISSED ON THE TRAILS!
CLICK ON ABOVE " EAST COAST " map for FRACKVILLE, Pa. weather forecast!!!!!

Our " SUMMER CAMPOVER " on Sept 19th & 20th was a good time had by all!Eleven Speedball's traveled across the mountains to Weatherly & watched the Road Rally Hill Climbs & camped nearby so we could watch the races both Saturday & Sunday.Ate at a Italian eatery for supper & drank a few brews while warming ourselves around a cozy campfire till wee hours in the morning. Everyone had a GRAND time!
VIDEO of the HONDA RINCON RIDERS ride with the East Coast Speedball's to the Hazelton Train Tunnel on November 10th!
MORE VIDEO of November 10th ride with HONDA RINCON RIDERS!
HELMET CAM video of Rincon Rider's at Frackville November 10th!
HYDEN, KENTUCKY Video of some real Kentucky REDNECKS !!!!!! NOT Speedball's!!!!
NEW PENNSYLVANIA ATV PARK!!!!
" Check out site BELOW "
" Design T-Shirts at CustomInk.com " You think it! We ink it!
Welcome to our website,

Contained within this website are " Newsletters & Photos " that chronicle our Great Adventures up & down the East Coast. Plus LINKS to vendors & ride areas & places to stay while there. Will be constantly updating as new info is acquired or discovered. Hopefully you will enjoy what Speedy has put together for ALL to enjoy as you share it with freinds & family. Your AARP atv buddy!

SPEEDY RACER